Trip Duration: September 27th – October 24th.
Mammals encountered: 32 species/subspecies
Mammals Photographed: 25 species/subspecies
This expedition was intended to be a 'late summer' wildlife photography trip, just before the snows hit the Rocky Mountains and made travel difficult. We didn't quite have a snow-free trip but we mostly stayed ahead of the weather as it chased us south.
Over the course of a month, we drove (from our home on Vancouver island) through Yellowstone N.P., Grand Teton N.P., Arches N.P., Bryce Canyon N.P., Grand Canyon N.P., Saguaro N.P., Joshua Tree N.P., Redwoods N.P. and Mount St Helens National Volcanic Monument. It was a phenomenal trip!
Our first sighting occurred on the a ferry ride between Victoria and Port Angeles in Washington State. During the crossing we saw dals porpoises far away across the strait. Then we had a long drive southeast through Washington, Idaho, Montana and finally into Wyoming. Not much to report along the way other than a few Columbian black tailed deer and a couple of pronghorns.
Yellowstone National Park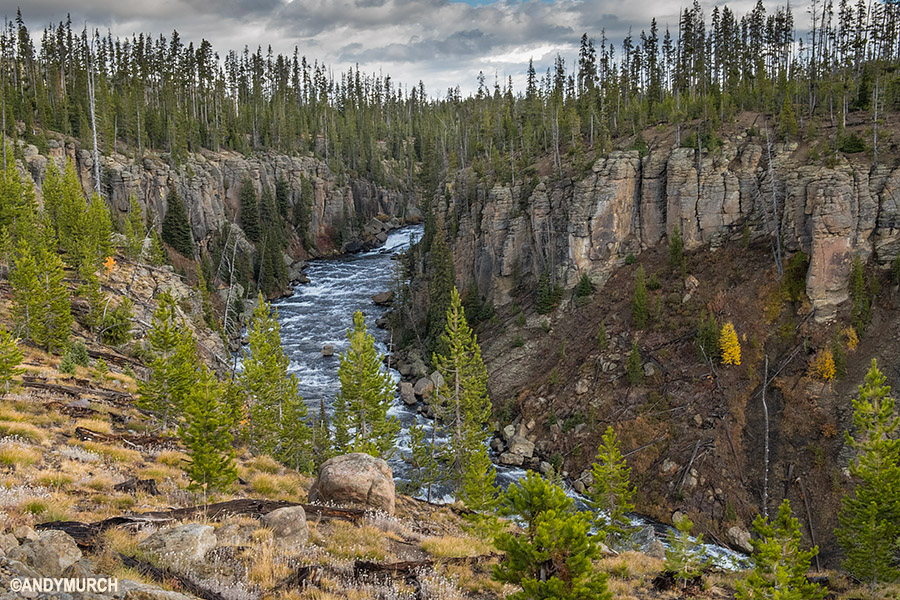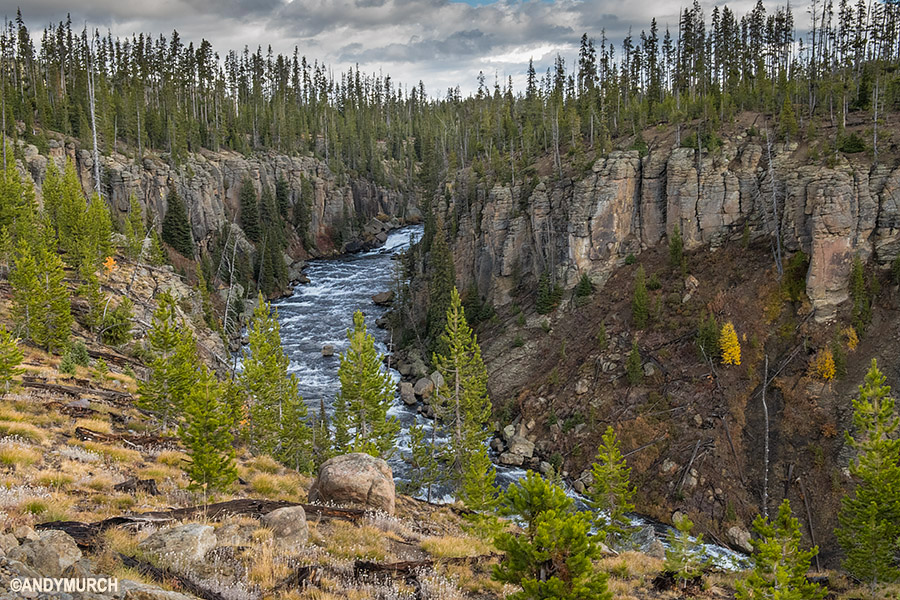 We arrived in Yellowstone N.P. during the elk rut. There were scores of Rocky Mountain Elk all around the tourist centre at Mammoth Hot Springs. Each night that we camped nearby, we fell asleep to the erie sound of bucks bugling to their does – a wonderful sound.
While in the park, we also managed to photograph most of the usual suspects i.e. hundreds of enormous American bison, small herds of pronghorns in Lamar Valley, bighorn sheep (solitary rams and small flocks of ewes and lambs), mountain goats high up on seemingly unscalable cliffs, a couple of cinnamon black bears, countless mule deer, packs of telescopically distant grey wolves and some surprisingly friendly mountain coyotes. One coyote was particularly desensitized to humans and let me snap away while he hunted, posed and pounced upon unsuspecting rodents.
But I digress. On this trip, we (my fiancee Laura and I) were on a mission to bag as many sciurids (squirrels, chipmunks and their kin) as we could find.
Being October, it was a bit late for marmots. Thats ok because we have designated 2017 as our 'Year of the Marmot' so we wandered the forests looking for their smaller cousins. We found two chipmunks and a couple of squirrels in Yellowstone. The first striped sciurid was a Least Chipmunk; very common in Yellowstone N.P.
The second chippy (below) was a bit pale for a Least but I guess it could have been just a pale winter coat. Any offers?
The squirrels we encountered were all too fast to get images of, but I suspect they were just red squirrels.
Grand Teton National Park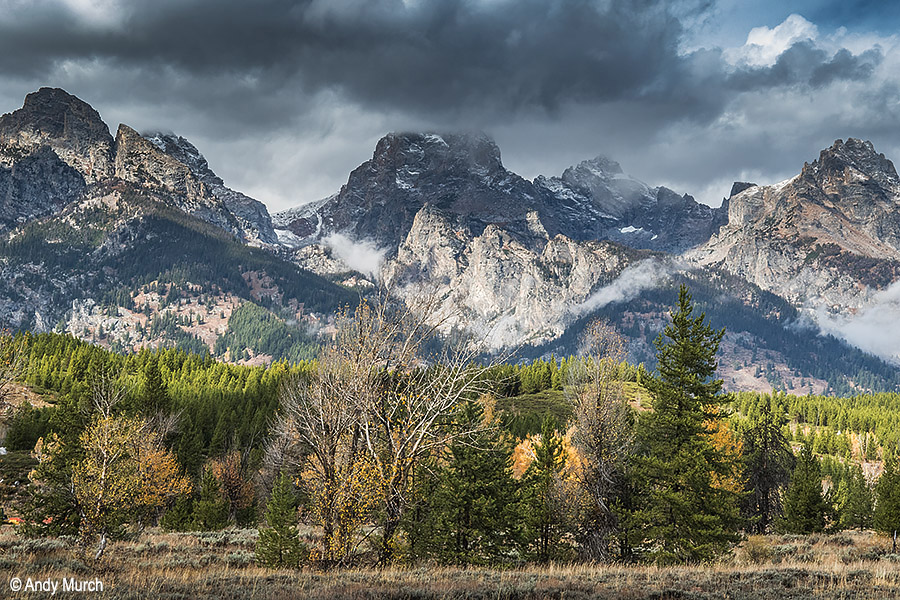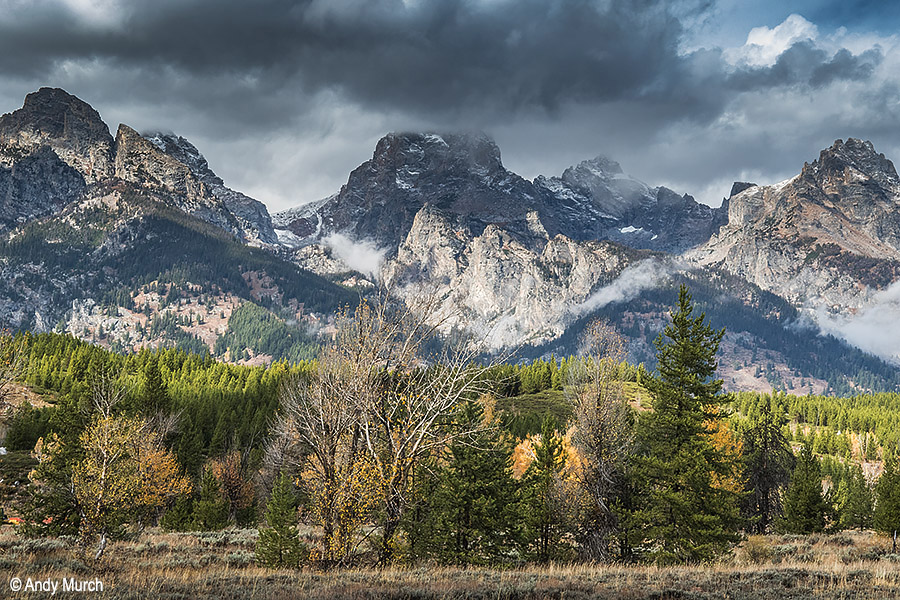 After three days in Yellowstone, the weather deteriorated and the first snow fall of the year arrived. So, we drove down to Grand Teton but it was freezing there too. We decided to head even further south into the deserts of Utah to warm up, but not before photographing a Shiras Moose or two. While I fumbled with my SLR, Laura whipped out her iPhone and snapped this great image of a big bull moose walking right past our van:
We continued south and spent the night in Northern Utah. That evening the wind howled incessantly around our van. The campground we chose was in the middle of nowhere and practically deserted. Apparently, we were the only campers foolish enough to brave the elements. The next morning we learned that a tornado had touched down right where we were camping – somehow I managed to sleep through the whole event 🙂
Arches National Park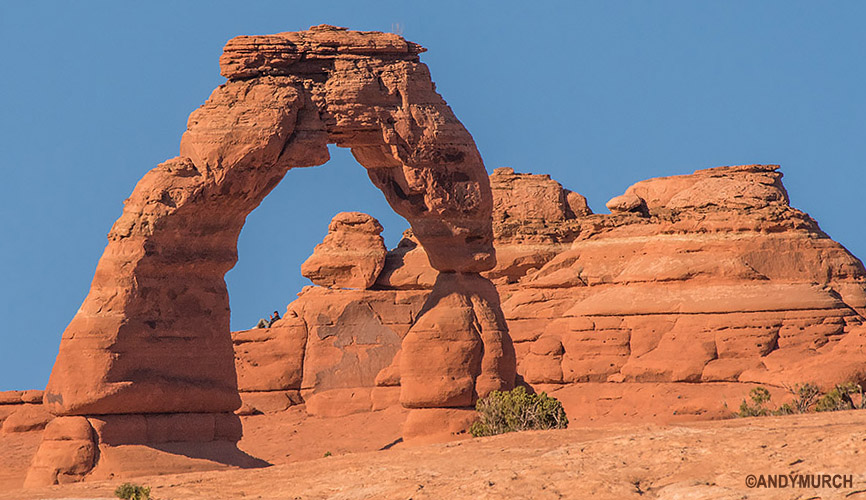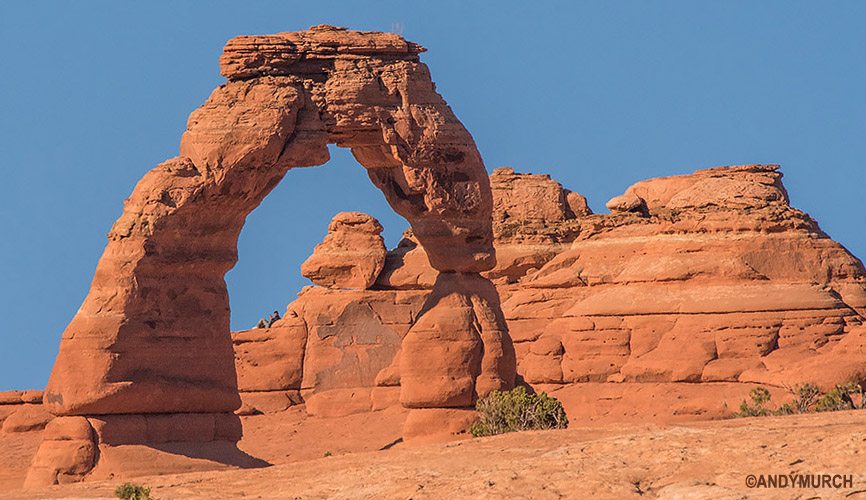 Our next stop was Arches National Park. Arches is a visually spectacular park if you like rock arches and other dramatic geological formations. However, it isn't a particularly good place to see wildlife. Over the next two days, we saw lizards in abundance but not a lot of mammals. I was hoping for desert bighorn sheep but no luck. However, we did see quite a few hopi chipmunks and desert cottontails while hiking along Primitive Trail on the Devils Garden Loop.
Bryce Canyon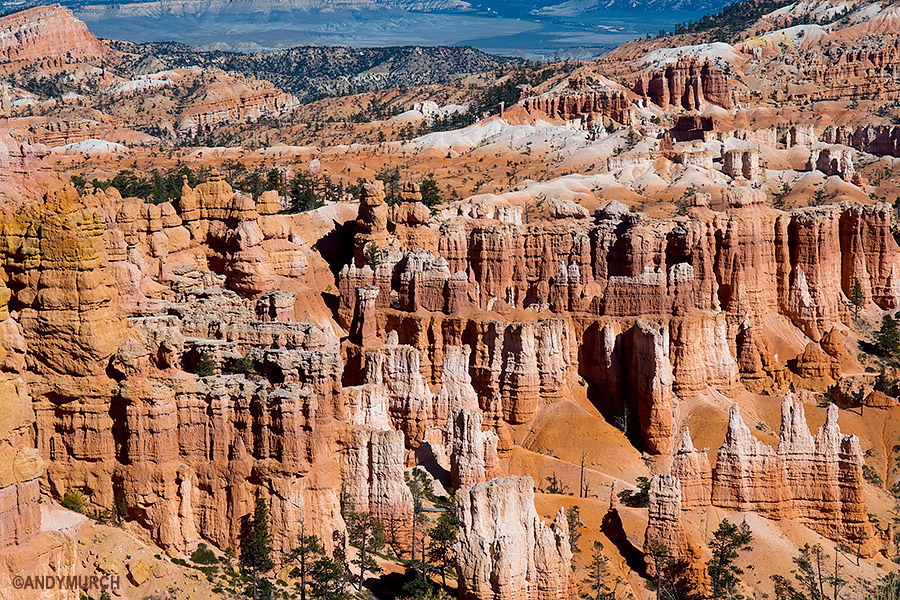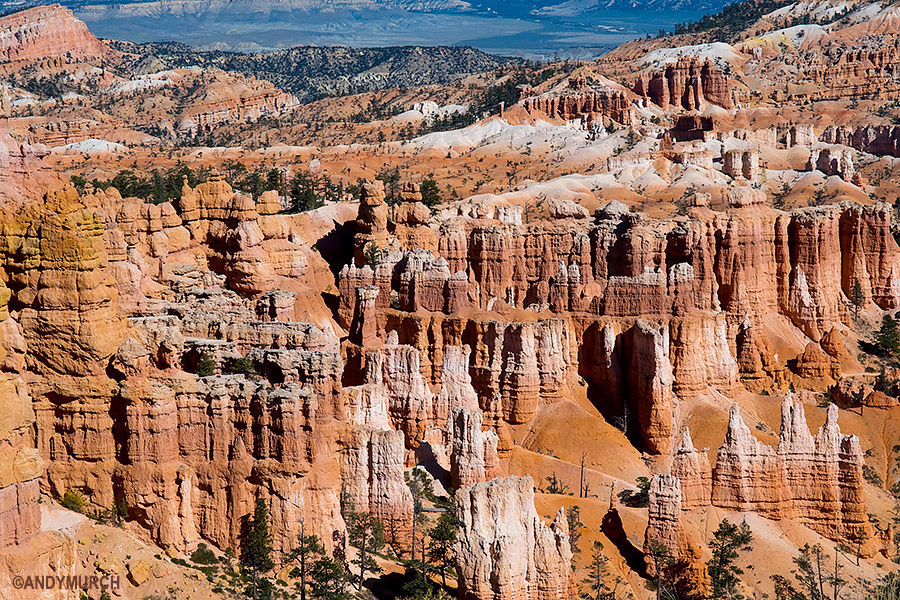 Those were the only mammals we saw in the entire park so we continued south to Bryce Canyon N.P.
Not far from Sunrise Point, there is sizeable colony of Utah prairie dogs. Unfortunately, the 'stay on the path' rules are quite strict in the park so I couldn't get very close but it was fun watching them foraging near their warrens while one or two remained on high alert, ready to squeal at the first sign of danger.
Right next to the lodge at Bryce's main canyon, the Uinta Chipmunks are abundant. Living in a busy tourist mecca, they have become quite bold; running back and forth through the parking lot, looking for scraps or perhaps hoping for handouts. They didn't get any from us but they still posed long enough for some great portraits.
Other than more mule deer, that was it for Bryce. We probably could have found way more species if we'd waited it out but again we were feeling the weather. At night in the campground the temperature dropped to -5ºC; too cold for an unheated van.
Silent City, Utah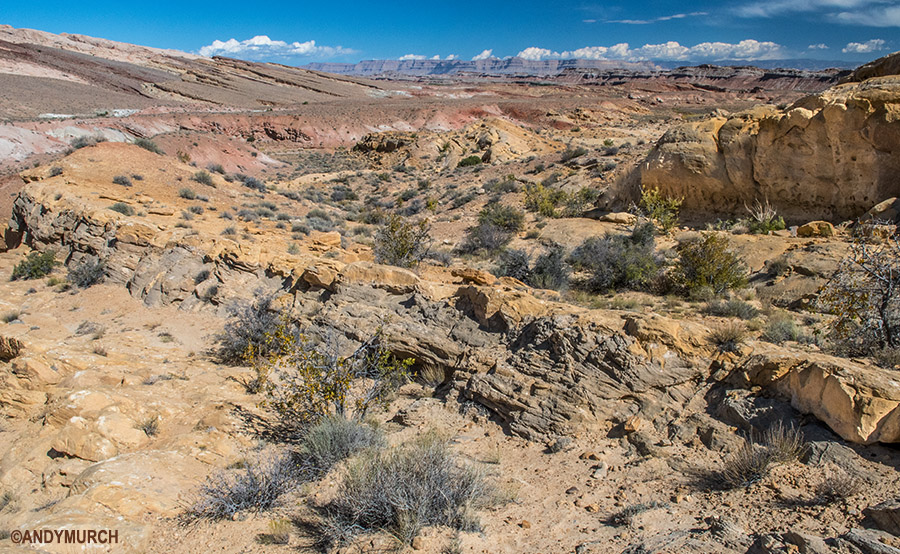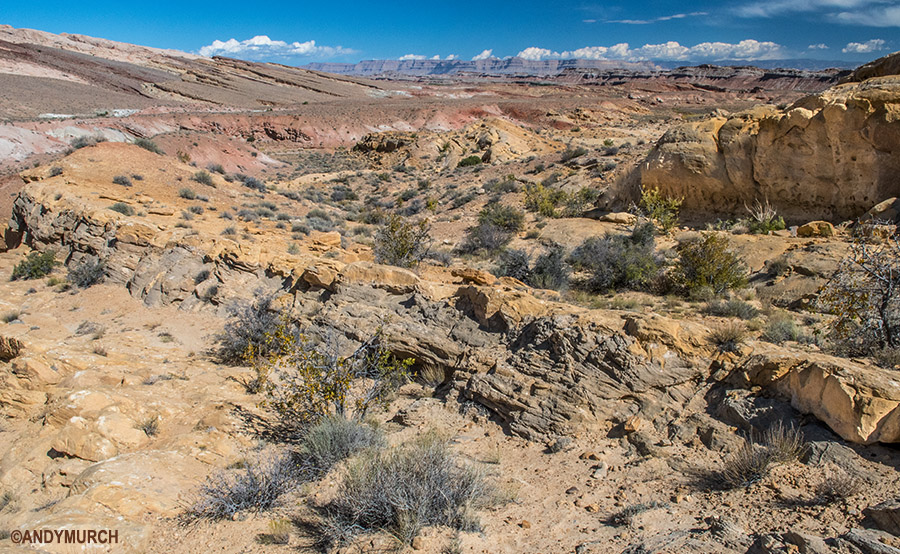 Our next destination was the south rim of the Grand Canyon. On the way there, we stopped at a rest stop on Highway 89 near Silent City. While wandering around looking for lizards, we found some white-tailed antelope squirrels foraging in the scrub.
While I was stalking the squirrels, I looked down at an erupting pocket gopher hole and lo and behold, up popped a head. It is tricky to identify a gopher just by his head, but based on location, it was probably a Botta's Pocket Gopher.
Grand Canyon National Park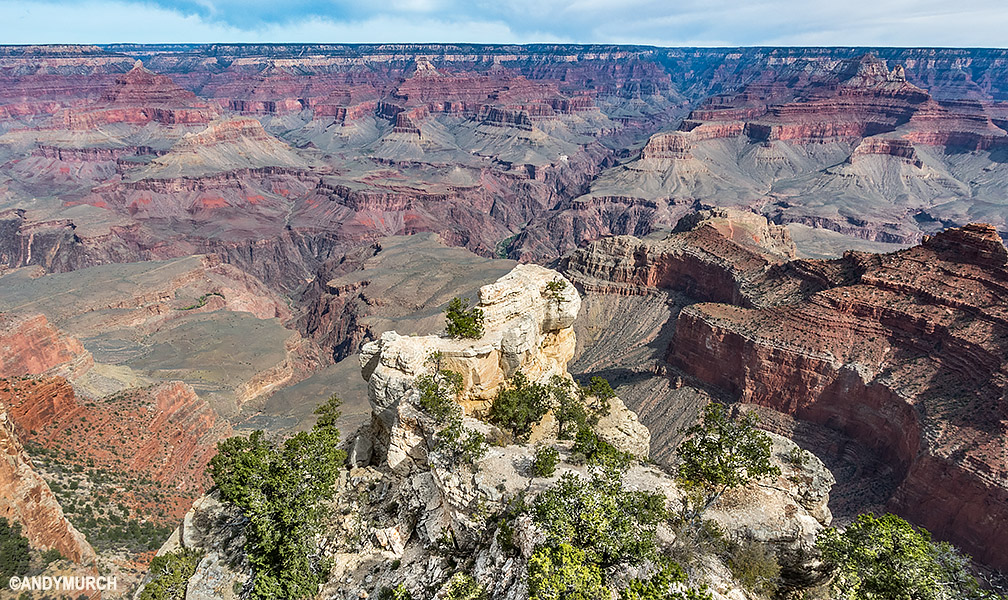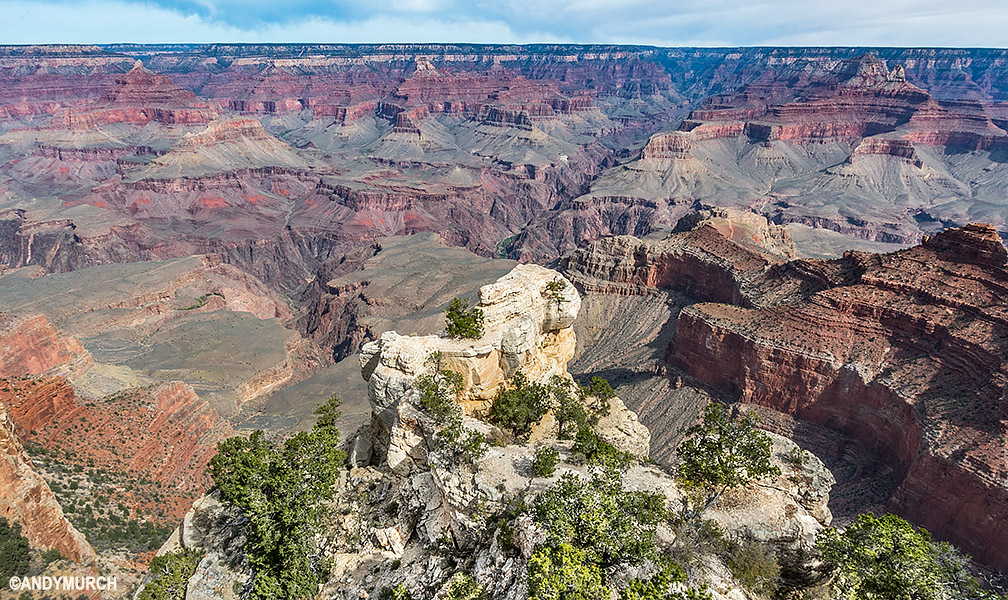 Onward to the Grand Canyon… Just after dawn there were quite a few cliff chipmunks out foraging along the south rim. They were shy but I managed to sneak up on a couple. By the time the bulk of the tourists arrived, most of these were long gone.
Conversely, the rock squirrels didn't bother getting up until the free handouts were available. A five minute walk east of the main visitor centre on the south rim, there is a rock where kids clamber around. It is crawling with tame rock squirrels that would rather have a cheesy than go foraging for pine cones. Rather sad to see but I still snapped away.
At that same visitor centre, there were lots more elk wandering around. They seemed to be attracted to the water supply at the drinking fountains.
That evening, I popped the question to Laura. She said yes so next year's trip to the Rockies should be even more fun 🙂 It must have been all the squirrels <3
Saguaro National Park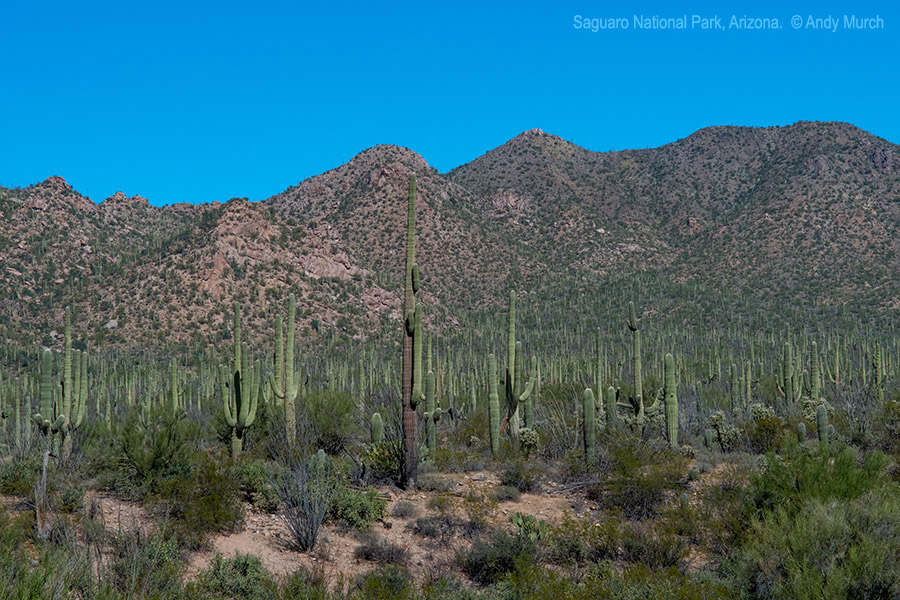 The next morning we decided it was time to thaw out, so we drove down to Gila Bend and spent the following morning hiking in the Sonoran Desert. There were plenty of tracks from rodents and endless lizards running around but no mammals in plain view.
In the afternoon we arrived at Saguaro National Park West (Tucson Mountain District).The park is split in two by the city of Tucson. The westerly section is smaller but it is more pristine with a greater density of stovepipe cactuses. We spent the night fruitlessly trying to photograph packrats. We found quite a few packrat nests; easily identified by a hole surrounded by pieces of dead chola cactus. But, we only saw a tail of one animal hiding in the roots of a big cactus.
The next morning we staked out a sunny spot inside the park and were rewarded by lots of sightings of harris antelope squirrels warming up on the rocks:
One smallish, very dark coyote (likely a Mearn's coyote) ran across the trail – clearly a different subspecies to the ones we saw earlier in the trip – but it was long gone before I raised my camera. That was it apart from all the lizards but I'll save those for another post.
Joshua Tree National Park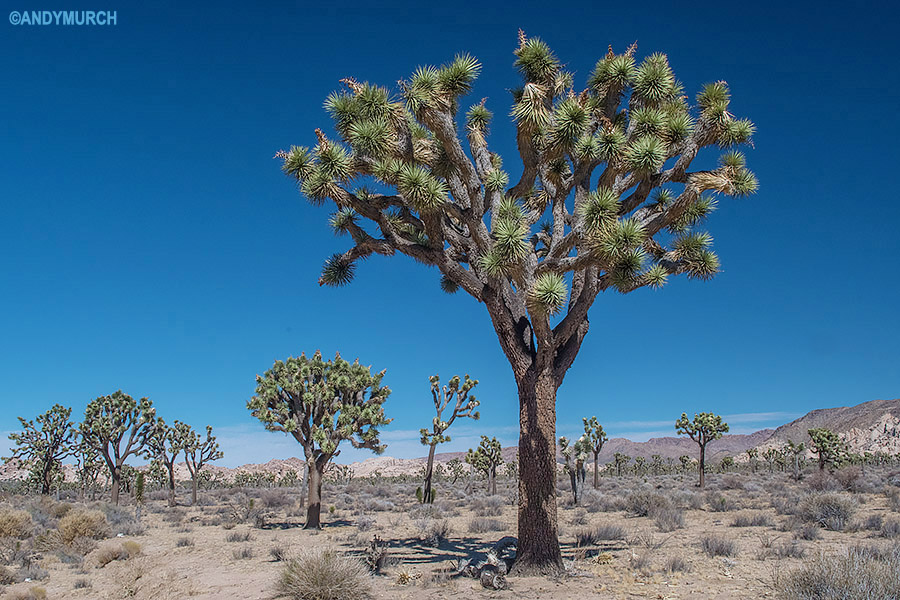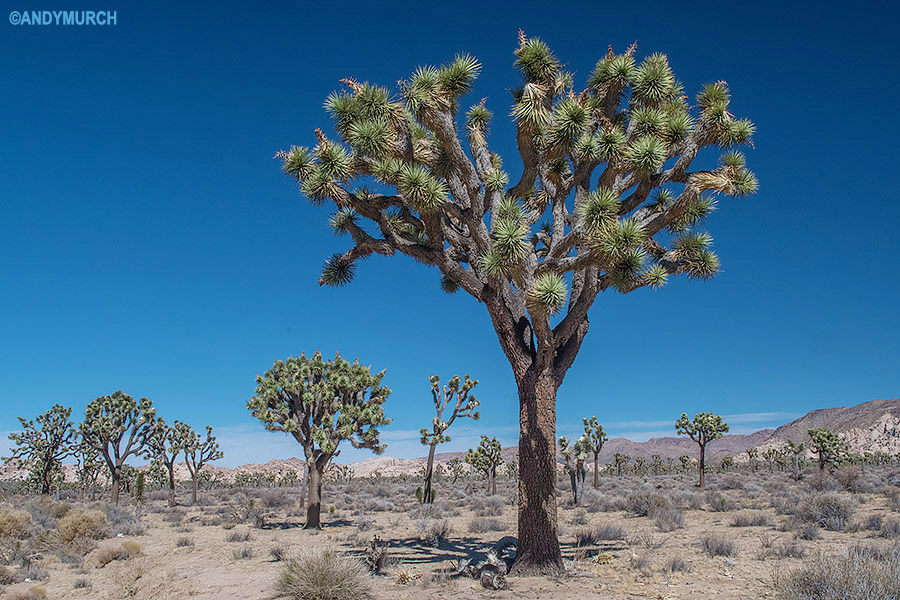 Next up, Joshua tree – one of our favourite spots to camp. Bumped into a few more white-tailed antelope squirrels and some healthy looking California ground squirrels:
The highlights in Joshua Tree were a couple of Merriam's kangaroo rats that kept scurrying around our fire pit. They darted away from any light sources so I made an improvised red filter for my modelling light and then they were fairly easy to track.
Guadalupe Island, Mexico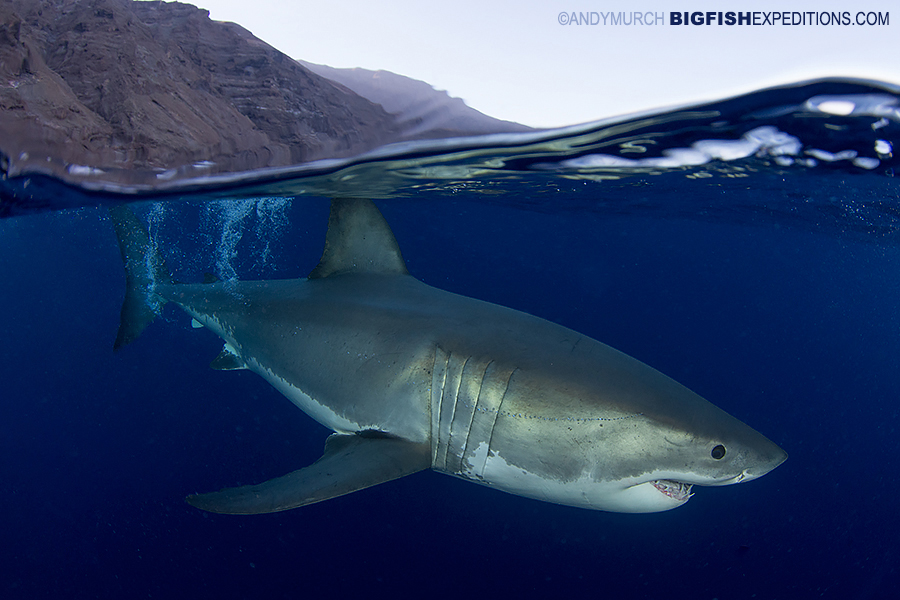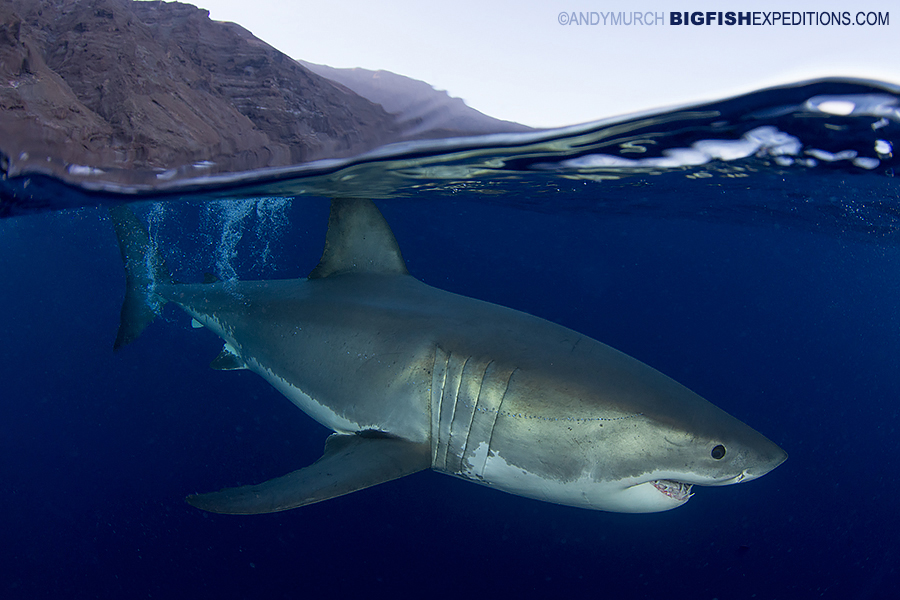 After Joshua Tree, it was time for us to head to California to meet our guests for a great white shark diving expedition to Guadalupe Island. Tourists are not permitted to set foot on the island but it is still possible to view the pinnipeds from the liveaboard dive boat. Sprinkled along the shore line we could see a large colony of northern elephant seals and a few endemic Guadalupe Island fur seals.
Although there were constantly large great white sharks around the boat, we had the occasional visit from California sea lions. Because the water is very clear at Guadalupe, the sharks know that they don't stand much chance of catching a sea lion. The sea lions are probably just bored but it looks as though they are actually taunting the sharks.
Redwoods National Park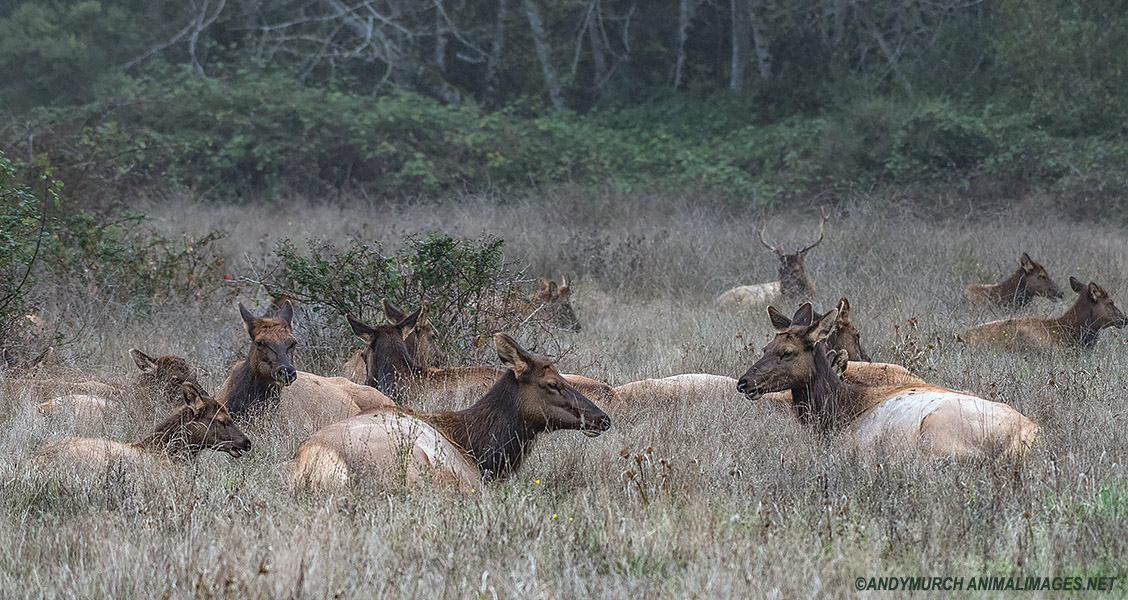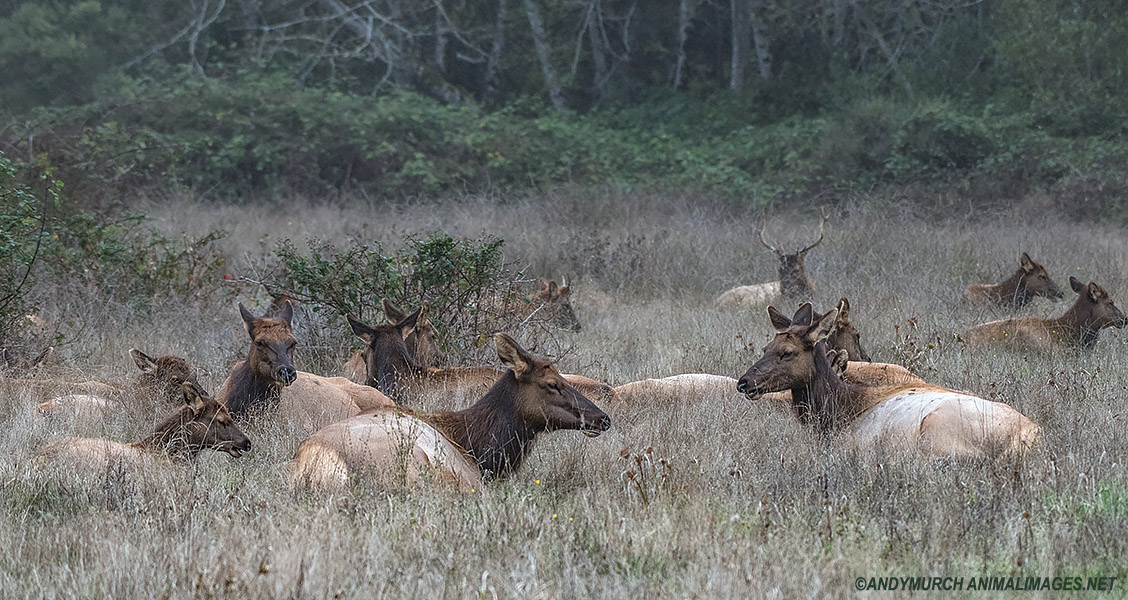 Five days later we were back on land and ready to race back home. On the way, we briefly stopped at Redwoods N.P. and were surprised to not find any squirrels at all. Lots of Roosevelt elk but no rodents. I'm sure they are there in abundance but perhaps it was a bit late in the season or maybe we were just looking the other way.
Mount St Helens National Volcanic Monument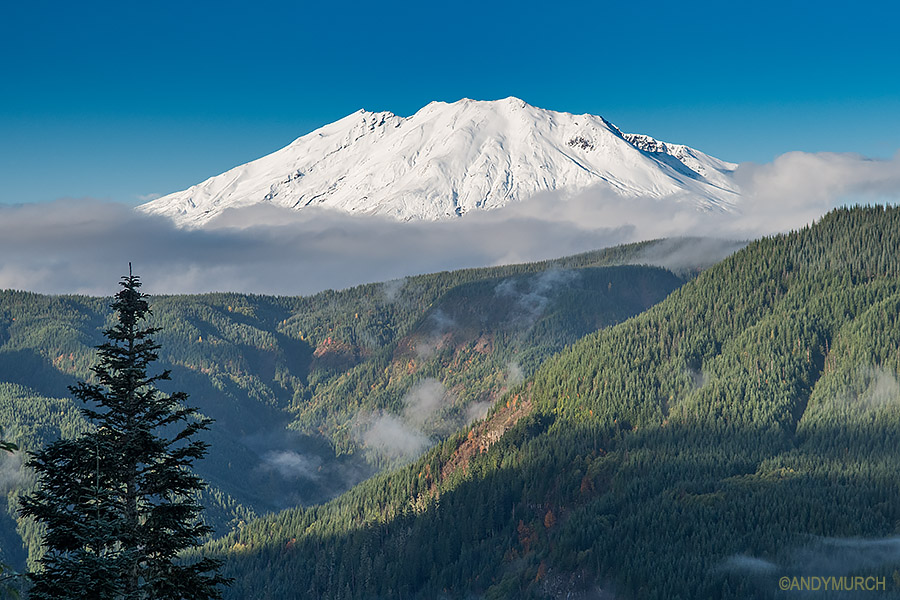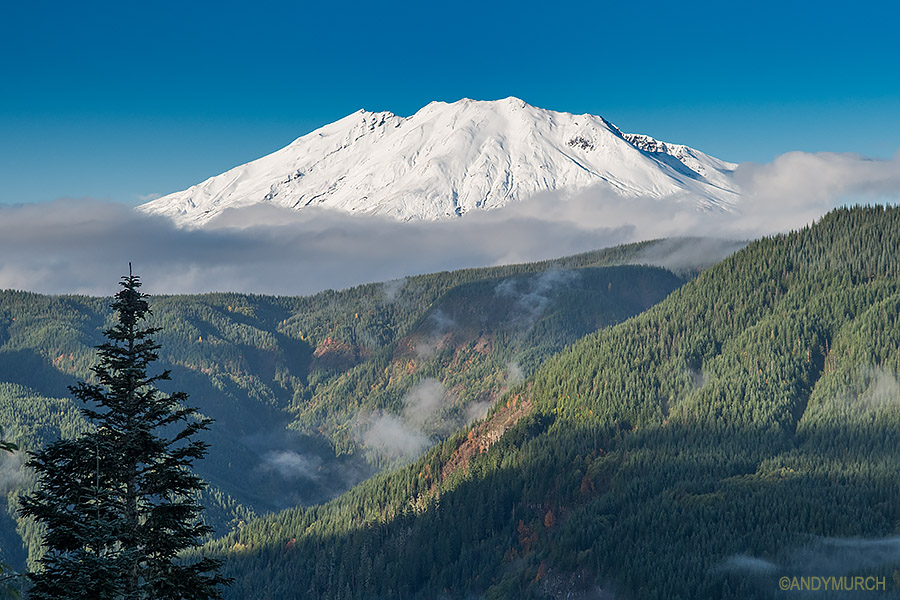 Our final stop was Mount St Helens. It was bitterly cold up around the crater but down in the valley at 4000ft there were still quite a few chipmunks on the prowl for winter provisions. I believe the ones we saw were mostly yellow-pine chipmunks.
After a final ferry ride across the Straits of Juan de Fuca to Vancouver Island, it was all over. 8500km had zipped by in a flash. Given a little more time, we likely would have seen quite a few more species but it was as much a scouting trip as anything else. Next time we'll go a little earlier and a little slower, do a lot more spotlighting in the evenings and generally pay more attention. Regardless, it was a great trip in so many ways. We added a lot of new species to our life lists, enjoyed spectacular vistas everywhere we went and got engaged! 🙂
Mammal List:
Dal's porpoise
Northern elephant seal
Guadalupe fur seal
California sea lion
American bison
Grey wolf
Mountain coyote
Mearn's coyote
Cinnamon black bear
Rocky Mountain elk
Roosevelt elk
Shiras moose
Mule deer
Pronghorn
Bighorn sheep
Mountain goat
Black-tailed jackrabbit
Desert cottontail
California ground squirrel
Red squirrel
Rock squirrel
Harris antelope squirrel
White-tailed antelope squirrel
Hopi chipmunk
Least chipmunk
Yellow-pine chipmunk
Uinta chipmunk
Cliff chipmunk
Utah prairie dog
Botta's pocket gopher
Meriam's kangaroo rat
Packrat